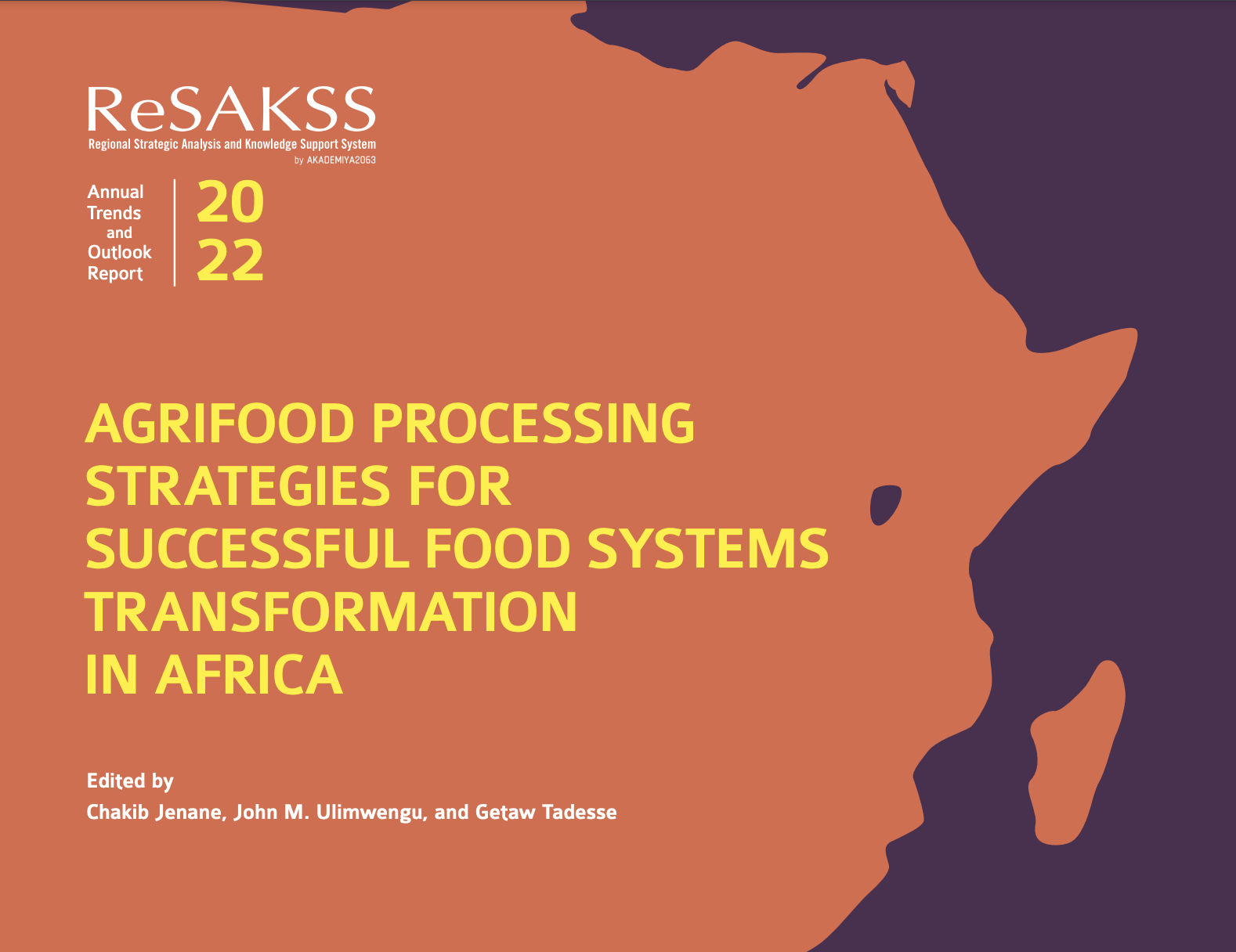 AGRIFOOD PROCESSING STRATEGIES FOR SUCCESSFUL FOOD SYSTEMS TRANSFORMATION IN AFRICA
The 2022 Annual Trends and Outlook Report (ATOR) examines policies to enhance the contribution of the agrifood processing sector to successful food systems transformation in Africa. The agrifood processing sector is expanding and increasing in importance as the role of processed food in diets grows. Increasingly, processing constitutes an essential link between producers and consumers and is a vital element for strategies to promote smallholder commercialization and rural development.
The report uses available cross-country data and case studies from value chains throughout the continent to provide an overview of recent growth in the processing sector and the performance, structure, and major constraints of key processing subsectors. The report discusses the challenges that prevent small and informal agrifood processing firms from growing and formalizing, examining required policies and strategies to strengthen the sector. Some recommendations include establishing enabling business environments and offering targeted support for skills development and access to finance and technology. The report argues that such strategies are crucial to increase performance in the agrifood processing sector and to better connect smallholders to markets, incentivizing farm production and productivity increases and catalyzing broader growth and transformation.
Download the 2022 Annual Trends and Outlook Report (ATOR)

ATOR by chapter
Chapter 1| INTRODUCTION: AGRIFOOD PROCESSING STRATEGIES FOR SUCCESSFUL FOOD SYSTEMS TRANSFORMATION IN AFRICA [Download]
Chakib Jenane, John M. Ulimwengu, and Getaw Tadesse
Chapter 2| THE RISE OF AFRICA'S PROCESSING SECTOR AND COMMERCIALIZATION OF SMALLHOLDER AGRICULTURE [Download]
Ousmane Badiane, Julia Collins, Katrin Glatzel, and Wondwosen Tefera
Chapter 3| THE DYNAMICS OF AFRICA'S FRUIT AND VEGETABLE PROCESSING SECTORS [Download]
Pepijn Schreinemachers, Mwasilwa Ambali, Mercy Mwambi, Caleb Ibukun Olanipekun, Rosaine Nerice Yegbemey, and Marco C.S. Wopereis
Chapter 4| AN OVERVIEW OF MEAT PROCESSING IN AFRICA [Download]
Karl M. Rich, K. Aleks Schaefer, Bhawna Thapa, Amy D. Hagerman, and Hannah E.Shear
Chapter 5| AGRIFOOD PROCESSING IN AFRICA: STATUS, CHALLENGES, AND OPPORTUNITIES [Download]
Mia Ellis, Jared Fang, and Margaret McMillan
Chapter 6| TRANSFORMING THE AGRIFOOD PROCESSING SECTOR IN AFRICA: THE ROLE OF INDUSTRIAL CLUSTERS [Download]
Kwasi Gyabaa Tabiri and Daniel Sakyi
Chapter 7| INNOVATION IN AFRICAN FOOD PROCESSING ENTERPRISES: PATTERNS AND DRIVERS  [Download]
Getaw Tadesse and Florence Gachango
Chapter 8| AGRO-PARKS AS DRIVERS OF THE AFRICAN FOOD PROCESSING SECTOR: REVIEW OF CONDITIONS FOR SUCCESS [Download]
Chakib Jenane and John M. Ulimwengu
FEATURED ISSUES 1| ACCESS TO FINANCE[Download]
Toshiaki Ono
FEATURED ISSUES 2| POLICIES AND INVESTMENTS TO SUPPORT THE DEVELOPMENT OF TECHNICAL SKILLS, LEADERSHIP, AND MANAGEMENT IN AGRIFOOD ENTERPRISES[Download]
Oliver K. Kirui
Chapter 9| TRACKING KEY CAADP INDICATORS AND IMPLEMENTATION PROCESSES [Download]
Julia Collins, Tsitsi Makombe, Wondwosen Tefera, and Augustin Wambo Yamdjeu
Chapter 10| CONCLUSION[Download]
Chakib Jenane, John M. Ulimwengu, and Getaw Tadesse